Last year, through sales and matching funds, Blue Grouse was able to donate $20,000 to Nourish Cowichan and provide 10,000 meals to families in need! An outstanding result that was only achieved through donations in multiple channels. To meet or beat 2021, the whole Blue Grouse team is asking for as many donations as possible through the winery, online, restaurants, and retail stores. Our 2022 goal is to reach at least $25,000. For those who would like to contribute to the campaign without the purchase of alcohol, they can head to Blue Grouse's Canada Helps link and send any contribution.
Click here for more information.

9 BC Wineries You Should Visit This Fall If You Love Cozy Vibes & Delicious Vino
...which includes Blue Grouse!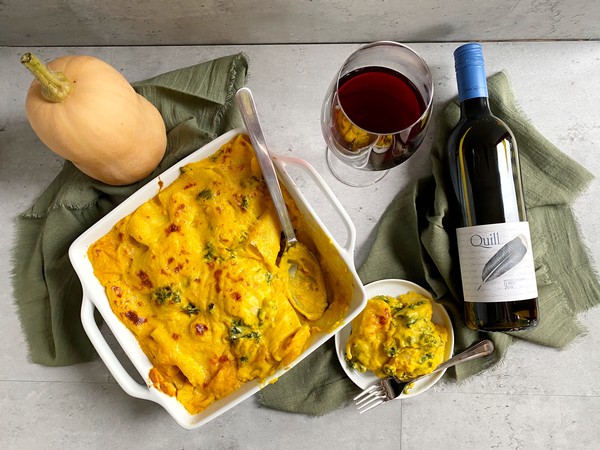 Butternut Squash Pasta with Parmesan Cheese Sauce paired with Blue Grouse Quill Q Red
Check out the Season and Serve Blog for the recipe.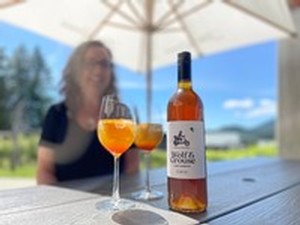 Wolf & Grouse is a collaborative project between Paul Brunner (proprietor, Blue Grouse Estate Winery) and
Alex Gallé, Belgian designer and entrepreneur behind Monteluz Pisco. Two long-time friends who have
connected over their love for wine, spirits, and food. One evening, over Peruvian dishes and pisco, the idea came up to put together a light drink for those who want to enjoy with friends without feeling the effects of the alcohol.
Click here to read more!

Anthony Gismondi offers up 25 B.C. winery experiences that shouldn't be missed.
3. Blue Grouse Estate Ortega 2020, Cowichan Valley, Vancouver Island $23.99The big story is the Pinot Noir, and it is an excellent one. Still, the fun wine is Ortega­­, all organically farmed on the estate and telling the story of fresh fruit, acidity, and salinity, ready for summer consumption.


91 points by BCWineTrends

Blue Grouse Estate Winery's recent fundraising campaign resulted in a whopping $20,000 donation to Nourish Cowichan Society, a charitable organization in the Cowichan Valley that offers meals and food hampers for families in need.
The $20,000 donation will allow Nourish Cowichan to provide 10,000 meals to families going through food insecurity in the
community.

These 12 BC Winery Experiences Are Probably The Dreamiest Way To Enjoy The Local Scenery...

Vita Daily, 5 Best Reds For B.C. Wine Month, 2018 Quill Red

Floral and citrus notes up front followed by peach, stonefruit and creamy notes with a hint of ginger spice, nicely balanced fruit and acidity with a little extra heft from time on lees. Overall a terrific example of just how well this variety can perform. $23.99 / 92 pts. Free shipping in BC on orders of six or more BG bottles.