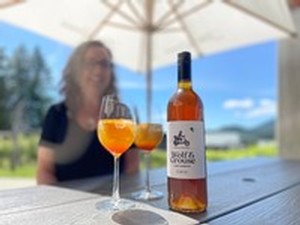 Wolf & Grouse is a collaborative project between Paul Brunner (proprietor, Blue Grouse Estate Winery) and
Alex Gallé, Belgian designer and entrepreneur behind Monteluz Pisco. Two long-time friends who have
connected over their love for wine, spirits, and food. One evening, over Peruvian dishes and pisco, the idea came up to put together a light drink for those who want to enjoy with friends without feeling the effects of the alcohol.
Click here to read more!

Anthony Gismondi offers up 25 B.C. winery experiences that shouldn't be missed.
3. Blue Grouse Estate Ortega 2020, Cowichan Valley, Vancouver Island $23.99The big story is the Pinot Noir, and it is an excellent one. Still, the fun wine is Ortega­­, all organically farmed on the estate and telling the story of fresh fruit, acidity, and salinity, ready for summer consumption.


91 points by BCWineTrends