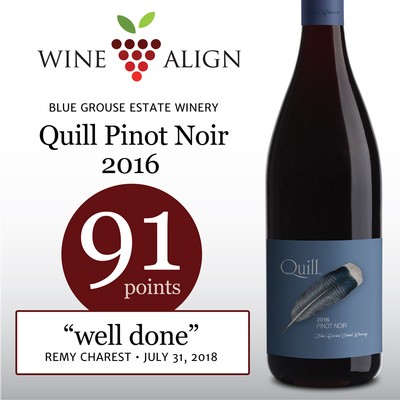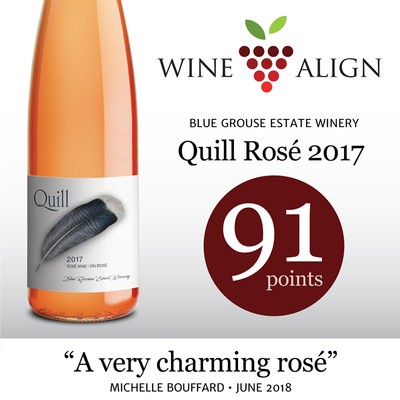 Blue Grouse Estate Winery Shines in Largest WineAlign National Wine Awards of Canada (NWAC)
Vancouver Island winery takes home gold, silver and bronze medals
We are very proud of our winemaking team for earning us three outstanding wine awards from the 2018 WineAlign National Awards of Canada (NWAC) competition that took place in Penticton from June 20 to 24. All entries were judged and tasted by leading wine writers, trade buyers, and sommeliers.
Gold Medal- 2016 Quill Pinot Noir ($25.00)
Silver Medal- 2017 Quill Rose ($21.00)
Bronze Medal- 2016 Quill Red ($23.00)
Co-founded by Anthony Gismondi and David Lawrason, this annual wine competition is the largest competition of Canadian wines in Canada. This year's competition also marked the largest entries received in history with 1,850 Canadian grown and made wines entered from 257 Canadian wineries.
See below for a list of liquor stores and restaurants that carry these award-winning wines. Or order via our online shop. Shop now
Cadboro Bay
Smuggler's Cove Liquor Store
Campbell River
Big Rock Liquor Store
Jak's - Willow Point
Jak's Discovery Harbour Liquor Store
Merecroft Village Liquor Store
Ocean Grove Liquor Store
Strathcona Park Lodge
Chemainus
Chemainus Theatre
Chemainus Village Liquor Store
Dayliner Club Car Cafe
Horseshoe Bay Inn Liquor Store
Colwood
Cascadia Liquor - Colwood
Comox
Black Fin Pub
Leeward Liquor Store
Outdoor Elements - Mount Washington Alpine Resort
Courtenay
Atlas Cafe
Cascadia Liquor - Crown Isle
Liquor Plus - Courtenay
Thrifty Foods Liquor - Courtenay
Cowichan Bay
Crofton
Duncan
Best Western Cowichan Valley Inn
Genoa Bay Cafe
Just Jake's Restaurant
Pioneer House
The Farm Table
The Royal Dar
Gabriola Island
Village Liquor Store Gabriola
Woodfire Pizza & Grill
Galiano Island
Heriot Bay
Ladysmith
Ladysmith Liquor Depot
Yellow Point Lodge
Saltair Neighbourhood Pub
Lake Cowichan
Best Buy Liquor Store (Riverside Inn)
Farm Table Inn
Jake's on the Lake
Langford
Malahat
Mill Bay
Nanaimo
Discovery Room (VIU)
Liquor Depot - Crossroads
Lucky's Liquor Store
Mahle House
Modern Cafe
Nest Bistro
North Town Liquor Store
Northgate Liquor Store
The Landing Liquor Store - Nanaimo
Vancouver Island Liquor - Nanaimo
Wheatsheaf Liquor Store
Windward Pub
Parksville
Pender Island
Medicine Beach Liquor Store
Port Alberni
Alberni Liquor Store
Char's Landing
Drinkwaters Social House
Sproat Lake Landing Liquor Store
Port Renfrew
Saanich
Liquor Plus - Mattick's Farm
Liquor Plus - Saanich Center
Salt Spring Island
Rock Salt Restaurant & Cafe
Upper Ganges Liquor Store
Shawnigan Lake
Sidney
Beacon Landing Liquor Store
Sooke
Tofino
Feast Tofino
Ice House Oyster Bar
Maquinna Liquor Store
SoBo
Tough City Sushi
Wickaninnish Inn - Pointe Restaurant
Wolf In The Fog
Ucluelet
Victoria
10 Acres Bistro
17 Mile House Liquor Shoppe
4 Mile Liquor Colwood
Aura Restaurant at Laurel Point Inn
Cafe Brio
Caffe Fantastico - Quadra Village
Caffee Fantastico Bar-Deli
Cascadia Liquor - Eagle Creek
Cascadia Liquor - Quadra Village
Cascadia Liquor Langford
Cascadia Liquor Uptown
Cask & Keg - Esquimalt
CFB Esquimalt - Naden Wardroom
Cook Street Village Liquor
Cork & Barrel Spirit Merchants
Crooked Goose Bistro
Ferris' Oyster Bar & Grill
Fin & Pearl - Whole Foods Market Victoria
Glo Restaurant + Lounge
Heron Rock Bistro
Il Terrazzo Ristorante
Jack's Liquor Store
Liquor Planet
Liquor Plus - Estevan
Liquor Plus - Hillside
Liquor Plus Royal Oak Centre
London Chef
Malahat Chalet
Maude Hunter Liquor Store
Northern Quarter
Oak Bay Marina
Royal Victoria Yacht Club
Sen Zushi
Spinnakers James Bay Liquor Store
Spinnakers Pub
Strath Ale, Wine & Spirit Merchants
Strathcona Hotel
Swan's Liquor Store
Tapa Bar
The Keg - Saanich
The Village - Royal Oak
Thrifty Foods Liquor - Tuscany Village
Thrifty's Liquor - University Heights
Tudor House Liquor Store
Vessel Liquor Store
Vintage Spirits (Hotel Rialto)
Vista 18 - Chateau Victoria
Zambri's Restaurant