May 1, 2020 | Jenny Garlini
Blue Grouse Estate Winery will Donate $10,000 to Nourish Cowichan
British Columbia your support has made a difference!
Blue Grouse Estate Winery will Donate $10,000 to Nourish Cowichan

The results are in and we are so proud to announce a donation of $10,000 to Nourish Cowichan Society, a charitable organization helping feed families in need.
Through April, in honour of BC Wine Month, we made the call to support local and buy Blue Grouse wine, and in return we committed to donate $1 dollar for every bottle sold, matched by another dollar from the Brunner family, owners of the winery.
Thanks to the support of the Blue Grouse Fan club, our sales teams, restaurants, and retail partners, we were able to sell 4,000 bottles to wine lovers by April 30, making a total $8,000 donation to the charity.
This morning, the Brunner Family decided to round the amount up to $10,000 reaching the original goal set by the winery team. This donation will provide a whopping 2,500 meals to families in need.
Learn more about Nourish Cowichan or donate here.
Find photos here.
The Brunner family and our team all share a heartfelt thank you to all wine lovers who have helped achieve this wonderful result.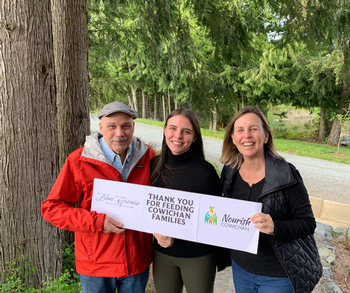 Comments
Commenting has been turned off.